Whether you need a semi-truck rental for a week, month, or even longer, you must keep several factors in mind. These factors include the cost of the truck, the mileage limit, the leasing options, and the competition.
What Are The Average Costs To Rent A Semi-Truck?
Several factors will impact the cost of renting a truck if you need a semi-truck for your business or personal use. These include the type of truck you want to lease, the company you choose to hire from, and the lease period. Generally, the more expensive the car, the more you will pay to rent it.
The average price of a semi-truck rental ranges from $170 to $215 per day. This does not include the initial down payment, which can be a significant part of the total rental cost. You may also have to pay for insurance and fuel. You will incur additional fees if you return the truck early or exceed the mileage cap.
You may also have to pay taxes. Some companies will give you a special rate if you rent many trucks. However, you'll need to check with the rental company first to ensure you qualify for this special rate.
Some companies will require a refundable deposit. Others may require weekly or monthly payments. You may also want a lease with add-ons like tailgates, toolboxes, and signage.
Leasing a semi-truck may be a good option if you do not have credit issues. Many of the larger trucking firms rent out entire fleets. These companies will contact you to hire a truck. The process is easy.
Depending on the truck you lease, you may have to pay additional fees for excess miles or fuel. The lease does not cover these fees. In addition, you may need to pay for collision coverage. Depending on the company, collision coverage may cost you between $800 and $1,500 a month.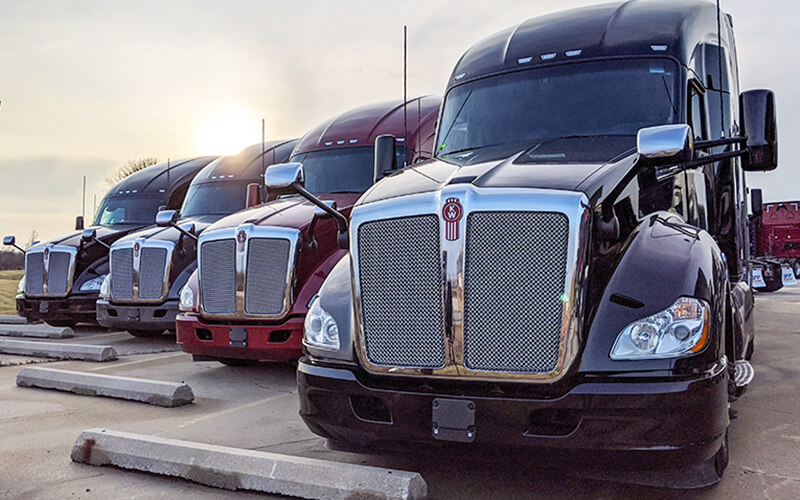 How To Get Into Trucking: A Beginner's Guide To Leasing A Truck
Whether an owner-operator or an employee leasing a truck can help you quickly enter the industry. It can also provide you with tax benefits.
While there are many advantages to leasing a truck, there are also many drawbacks. If you rent a car, finding a reputable company is essential. You want to ensure that you get the vehicle in good working order and that the company offers the proper maintenance and insurance.
The best part of leasing a truck is that you don't have to spend a lot of money upfront. Depending on your credit, you can find a free lease or at least less expensive than a traditional loan.
A lease may also include a buy-out option, which means you can buy your truck at the end of the lease. The cost of this option varies and depends on the length of your lease and the number of monthly payments you make. You may also be required to pay a hefty fee at the end of the lease.
Buying a truck is a significant investment. A lease is a better choice if you're looking for a new truck every few years or if you need to upgrade your current truck.
If you choose to lease a truck, you'll have to pay for fuel, insurance, maintenance, licensing, and other costs. Some leasing companies will even handle repairs. While saving money on vehicle maintenance may be tempting, this could cost you more in the long run.
The best way to find a lease is to research your options online. A qualified truck leasing company will provide you with more information and can help you find the best deal on a lease.
How To Hire A Truck For Long-Distance Travels
Whether planning a cross-country trip or just a long weekend away from home, you are renting a truck can be a great way to get around town. However, before you go all out on the gas, could you ensure you have a solid plan? The last thing you want is to end up in an accident. Luckily, there are plenty of companies out there who are willing to help you out.
In addition to the standard rental rates, you may also be subjected to a per-mile fee for overestimated mileage. Most importantly, you'll get an estimate of how many miles you'll be racking up. That's a lot of money, so read your contract carefully.
For the uninitiated, could you look into a service such as Home Depot's Trucks for Hire? Not only will you get a cheap ride, but you will also be satisfied knowing that you're not racking up the bill on a big rig.
You'll likely need to make more than one stop for a full-on road trip. You'll also need to get all the proper paperwork in order. In addition to the standard rental rates, you'll also have to pay for fuel. If you're in a pinch, you may want to drive to your nearest fuel station, and if you're in a hurry, you can probably get in line for a gas tank. Lastly, before you hit the road, check your insurance coverage. In some cases, you'll be able to use your policy to cover the cost of damages caused by accident.
Semi-Truck Rental with Tandem Axle Conventional Day Cab
Whether hauling heavy equipment or a trailer, a semi-truck rental with a tandem axle conventional day cab will make your job easier. The longer rear axle provides better weight distribution and a smoother ride. The day cab is designed for maximum visibility and maneuverability.
A tandem axle conventional day cab can hold a gross weight of up to 80,000 pounds. It comes with larger fuel tanks and a cab-over truck design. The rearview mirror is helpful when backing up or making a U-turn.
The cost of a semi-truck rental with a tandem axle conventional sleeper cab varies daily, depending on the rental company. Some companies may have special discounts for the first two days. You will be charged an additional $85 per day for other days. Depending on the truck's size, the rental company can provide you with weekly or monthly payments.
A semi-truck rental with a tandem axle sleeper cab is around $210 - $215 per day. These trucks have an 80,000-pound capacity and double bunk sleepers. The wheelbase is shorter, which makes maneuvering easier. They are designed for long-distance trips. The car is also equipped with power steering and an automatic transmission. The day cab is also designed for ease of loading and cargo protection.
A day cab tractor truck is more fuel efficient than a sleeper cab. However, it could be better for overnight stays. Please consider your average haul length when deciding which truck to rent. It is also heavier than a sleeper cab, so you will need to pay more.
Check the engine for leaks, dirt, or rust. Also, check the tires for tread wear or cracks. You should also check for odd noises and broken hubcaps.